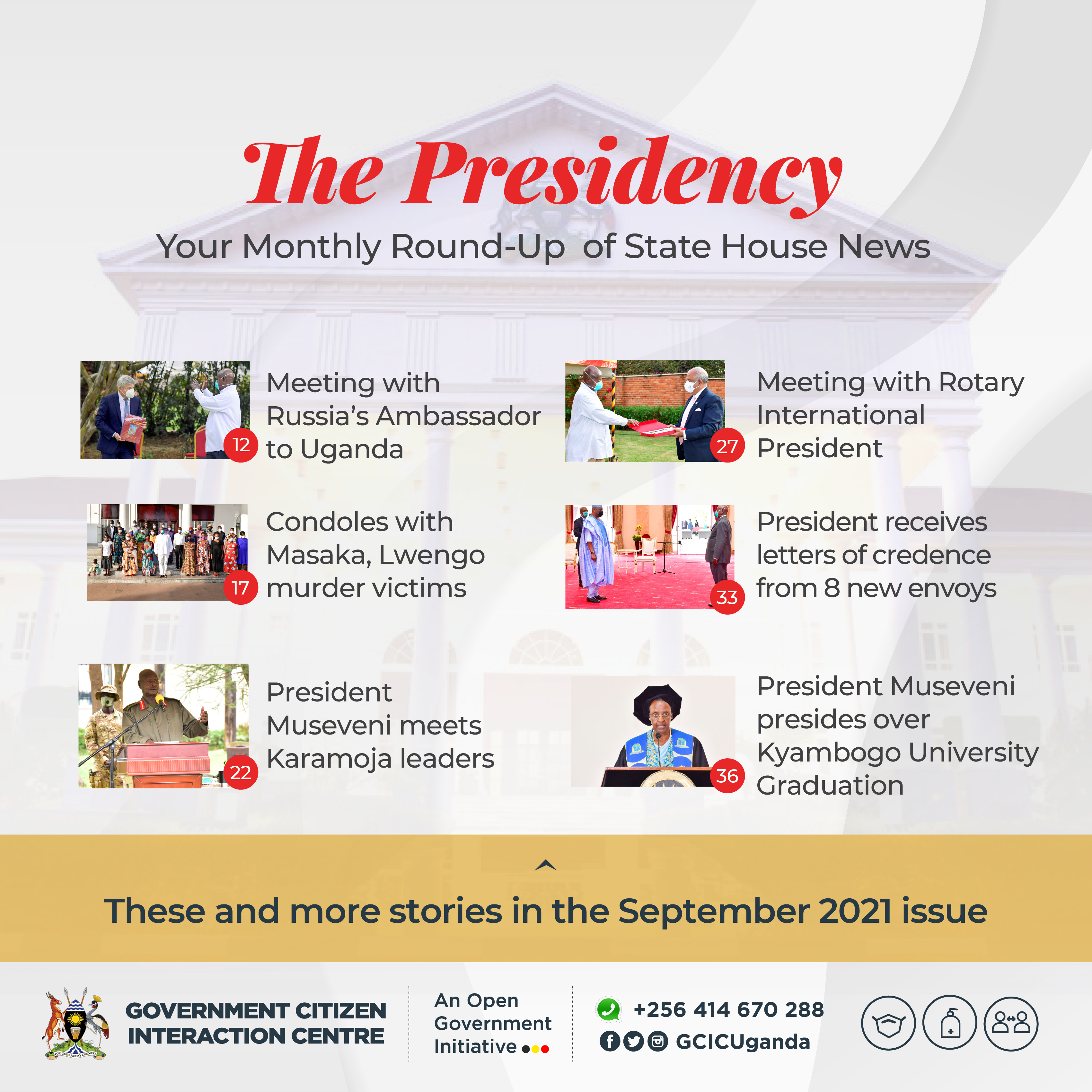 Dear Reader,
I once again have the pleasure to present to you another edition of our monthly e-magazine, The Presidency, for the month of September.
I continue to receive feedback from the readers and we are working hard to make improvements on every new edition, to make the magazine both simple and informative for the reader.
The key aim of the magazine is to bring the Presidency including office and residence of the President of the Republic of Uganda, closer to the public. We believe Government is accountable to the citizenry and every citizen has a right to timely, reliable and factual information from the Government.
In the coming editions, we shall be able to bring you analyses from different Ministries, Departments and Agencies, regarding Government projects, which the President has launched, visited or commissioned, and how they will transform our country.
Key highlights from the President's schedule for the month of September include; addressing the virtual Africa Green Revolution Forum (AGRF) attended by several Heads of State, visiting Karamoja sub-region to assess the security situation, hosting the President of Rotary International, presiding over the 17th Kyambogo university graduation, receiving credentials of eight new envoys among others.
Lastly, in this edition, we are publishing the President's statement on military coups in Africa, issued on 15th September 2021.
I now have the pleasure to present to you the fourth edition of The Presidency.
Marcella Karekye
SPECIAL PRESIDENTIAL ASSISTANT IN-CHARGE OF COMMUNICATION AND DIRECTOR GOVERNMENT CITIZEN INTERACTION CENTRE (GCIC)