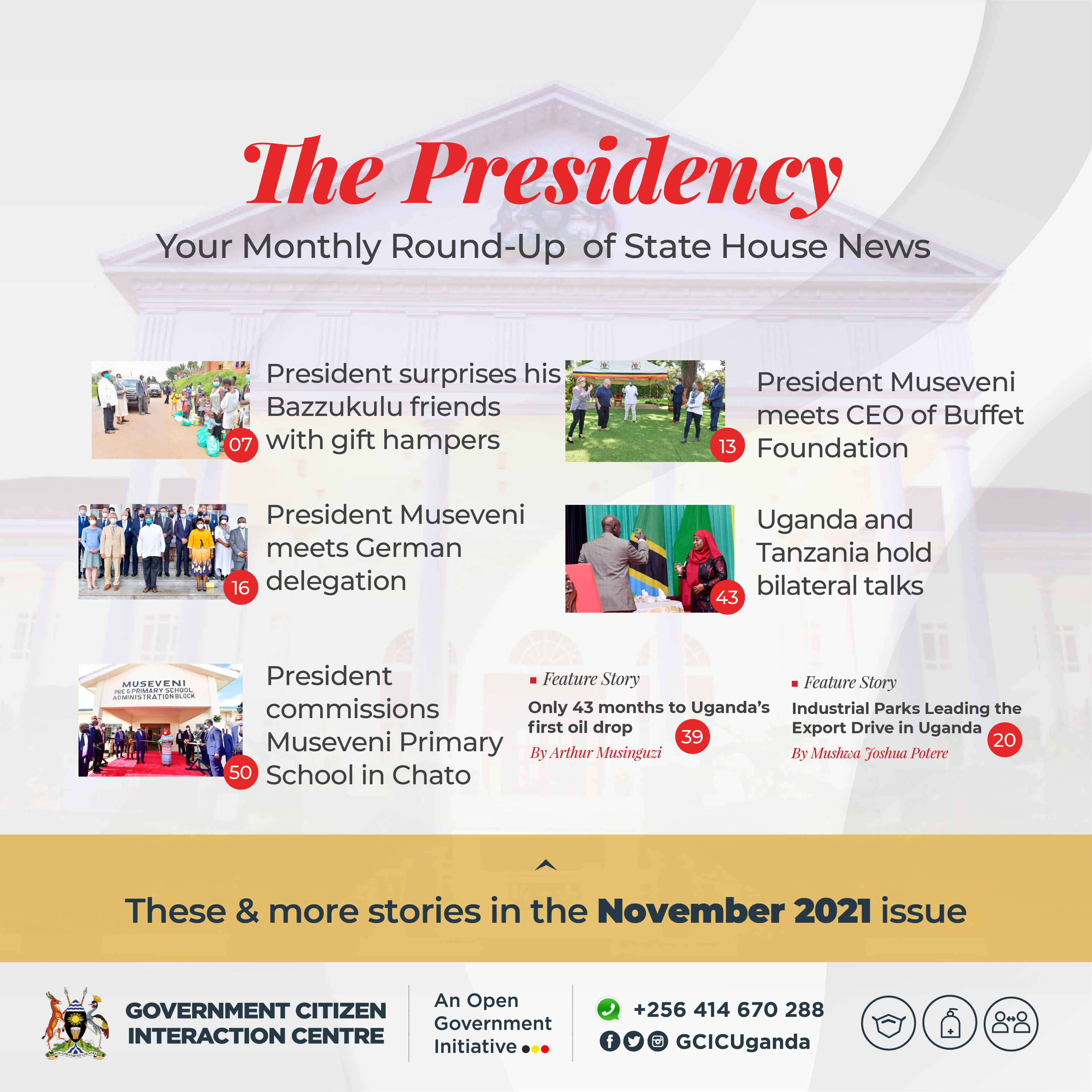 Dear Reader,
I have the pleasure to present to you the November edition of our monthly e-magazine, The Presidency.
In each edition, we try to improve the content and its layout, building on the feedback that we have been receiving from the readers. The objective of the magazine remains to bring the office and residence of the President closer to Ugandans. The President and his Government derive their mandate from Ugandans. It is therefore, prudent that this information is shared as a form of accountability.
The primary role of the Government Citizen Interaction Centre (GCIC) is to facilitate interaction between the Government and the citizenry, using different electronic tools, including this monthly magazine. We have also introduced a quarterly newsletter that covers the performance of Government for every three months. The quarter one issue was released in October; https://www.gcic.go.ug/gcic-quarterly-newsletter-fy2021-2021-quarter-1/, and quarter two issue will be released in January, 2022.
In the month of November, the President travelled to Tanzania for a state visit. He was hosted to a state banquet by his host, Her Excellency Samia Suluhu Hassan, the President of the United Republic of Tanzania. The two Heads of State addressed a joint Tanzania-Uganda Business Forum. The President also visited Dar- es-Salaam Port and the Standard Gauge Railway. On the last day of his visit, the President paid his respects to late President John Pombe Magufuli and launched Museveni Pre and Primary School in Chato, a school he built in honour of Tanzania's contribution towards the end of Idi Amin's dictatorial regime in Uganda in 1979.
Lastly, in this edition, we are publishing the President's address to the nation on crime, vaccination and terrorism, delivered on 20th November, 2021, at State House, Nakasero.
I now have the pleasure to present to you the sixth edition of The Presidency.
Marcella Karekye
SPECIAL PRESIDENTIAL ASSISTANT IN-CHARGE OF COMMUNICATION AND DIRECTOR GOVERNMENT CITIZEN INTERACTION CENTRE (GCIC)