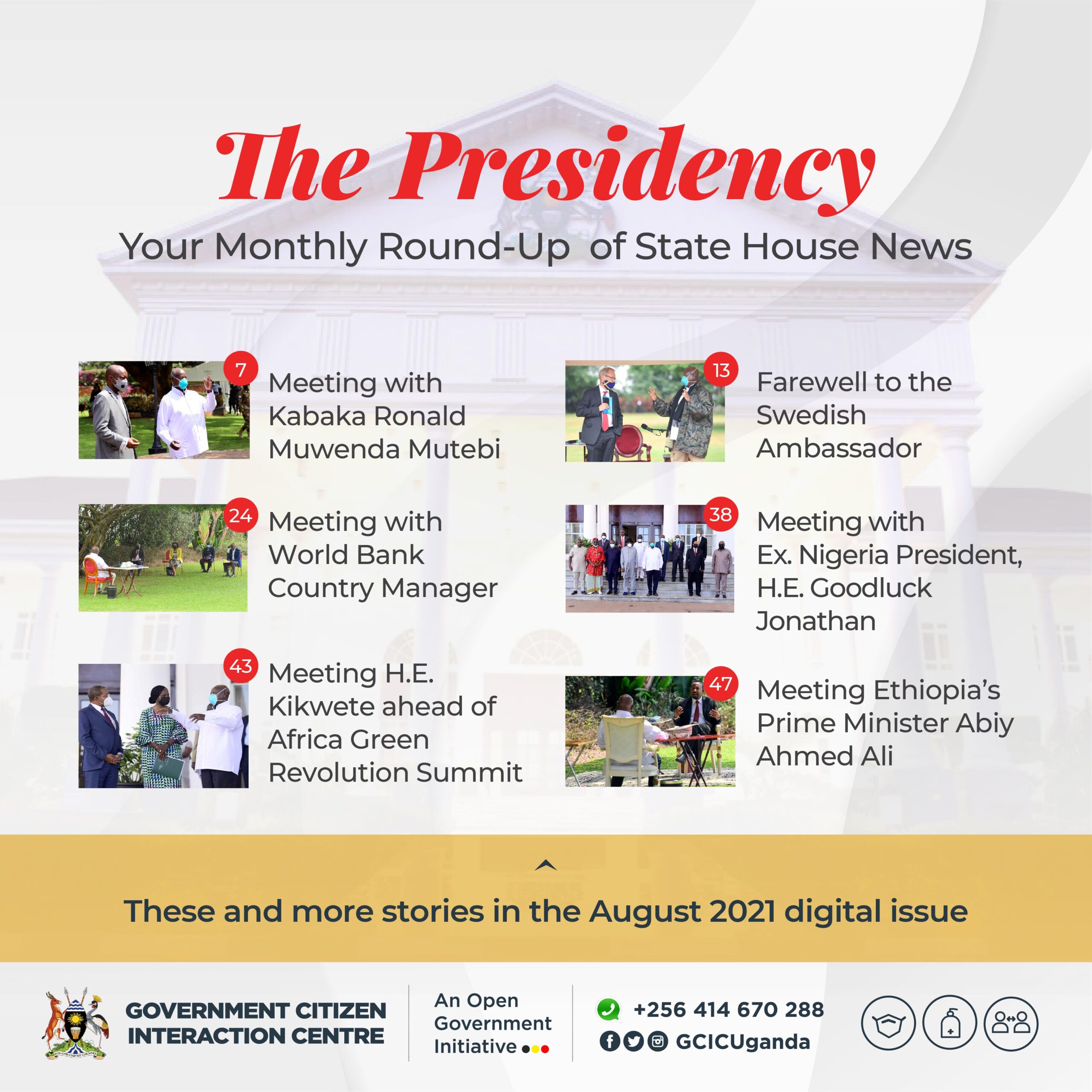 Dear Reader,
I once again have the pleasure to present to you another edition of our monthly e-magazine, The Presidency, for the month of August.
I have been receiving diverse feedback from friends, supporters of the President and the public regarding the editions of June and July. The feedback is highly appreciated and my conviction is that we shall continue to improve until the magazine becomes a simple but informative tool for the reader.
As I pointed out in the inaugural edition, the magazine aims at bringing the presidency including office and residence of the President of the Republic of Uganda, closer to the public. We are driving the Open Government agenda and we want to make sure every citizen feels they are part of this Government and Country, by receiving transparent, factual, relevant and timely information from the Presidency and Government in general.
In the subsequent editions, we shall bring you analyses from the different Ministries, Departments and Agencies of Government, where the President has launched various projects, and how those projects intend to benefit the citizens and the Country.
Due to the COVID-19 pandemic, the President's schedule remains office-based between State House, Entebbe and Nakasero State Lodge with exceptions of launching the Kiira motor vehicle manufacturing plant, addressing ARIPO Diplomatic Conference at Munyonyo and a few engagements at Kololo Independence Grounds.
Lastly, in every edition, we run the President's major speech of the month. In this edition, we have included the President's condolence message on the loss of the late Maj. Gen. (posthumously promoted to Lt. Gen.) Paul Lokech of 27th August, 2021.
I now have the pleasure to present to you the third edition of The Presidency.
Marcella Karekye
SPECIAL PRESIDENTIAL ASSISTANT IN-CHARGE OF COMMUNICATION AND DIRECTOR GOVERNMENT CITIZEN INTERACTION CENTRE (GCIC)