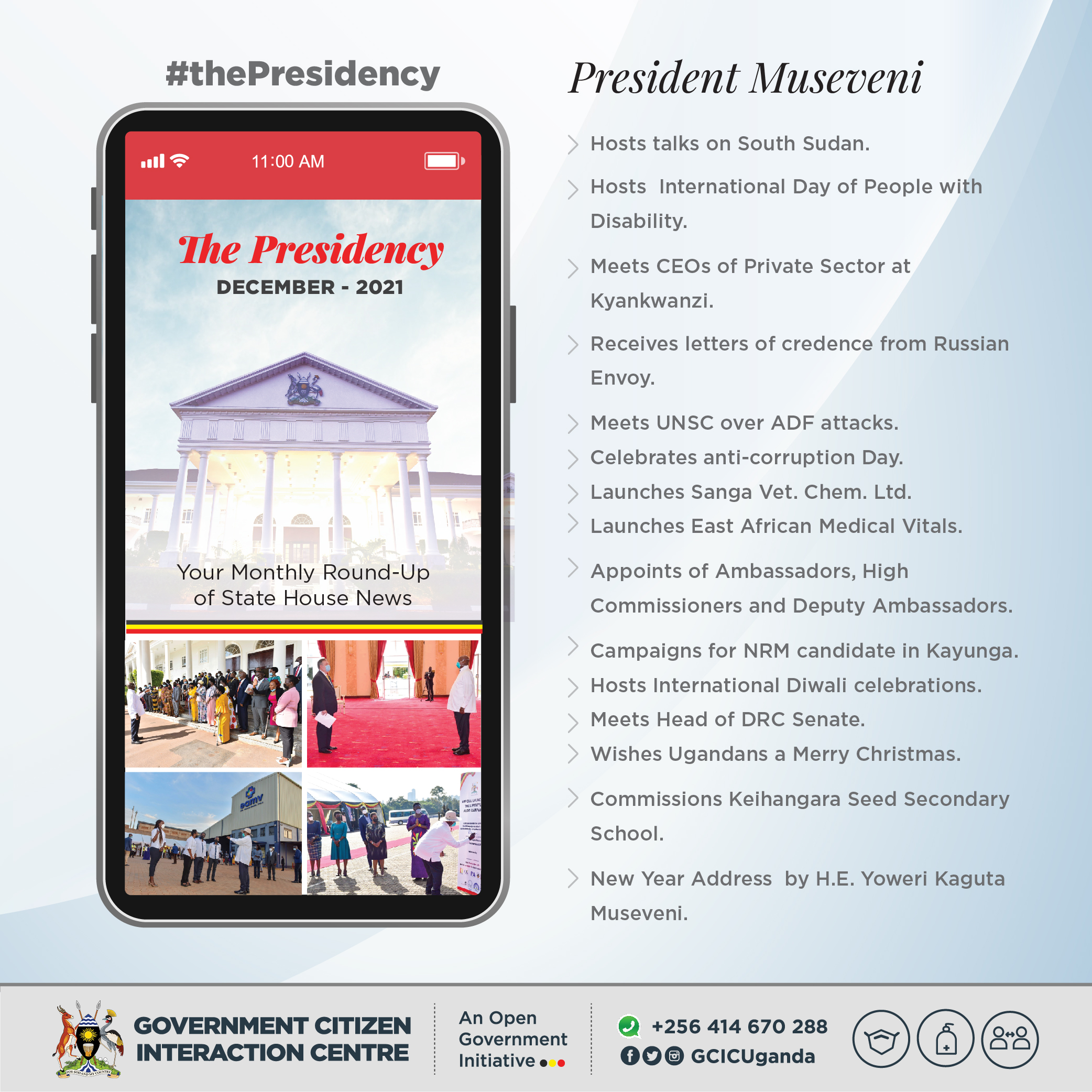 Dear Reader,
I have the pleasure to congratulate you upon successfully finishing 2021 and wish you a prosperous 2022. I also have the honour to present to you the December edition of our monthly e-magazine, The Presidencyhttps://www.gcic.go.ug/wp-content/uploads/2022/01/The-Presidency-Dec-2021.pdf.
The Presidency is an idea we mooted in June last year, to bring to you, the GCIC follower and a Uganda citizen, the monthly itinerary of His Excellency the President, as part of open Government initiatives of the Government of Uganda. We have been consistent since and this is our proud seventh edition.
What GCIC strives for, is to ensure that you as a citizen feels you are part of Government through citizen-led governance, by putting forward your suggestions or questions through our platforms; email: citizen@gcic.go.ug, Whatsapp: 0414670288 or through our social media handles; GCIC Uganda. You can also use these platforms to share your views on how some of the media of mass engagement, including this magazine, the quarterly newsletter and the weekly Citizen Baraza, can be improved.
The month of December is mainly Christmas and end of year festivities and H.E. the President joined his family at their country home in Rwakitura, Kiruhura District, to partake in the celebrations. The President had kicked off the month with diplomatic engagements; hosting South Sudan peace talks at State Lodge, Nakasero, meeting and briefing representatives of the United Security Council about Uganda Peoples' Defence Forces operation against the Allied Democratic Forces inside the Democratic Republic of Congo, and later receiving letter of credence from the Russian Ambassador to Kampala among others.
Lastly, in this edition, we are publishing the President's end of year address to the nation on 31st December, 2021, at Rwakitura, Kiruhura District.
I now have the pleasure to present to you the seventh edition of The Presidency.
Marcella Karekye
SPECIAL PRESIDENTIAL ASSISTANT IN-CHARGE OF COMMUNICATION AND DIRECTOR GOVERNMENT CITIZEN INTERACTION CENTRE (GCIC)