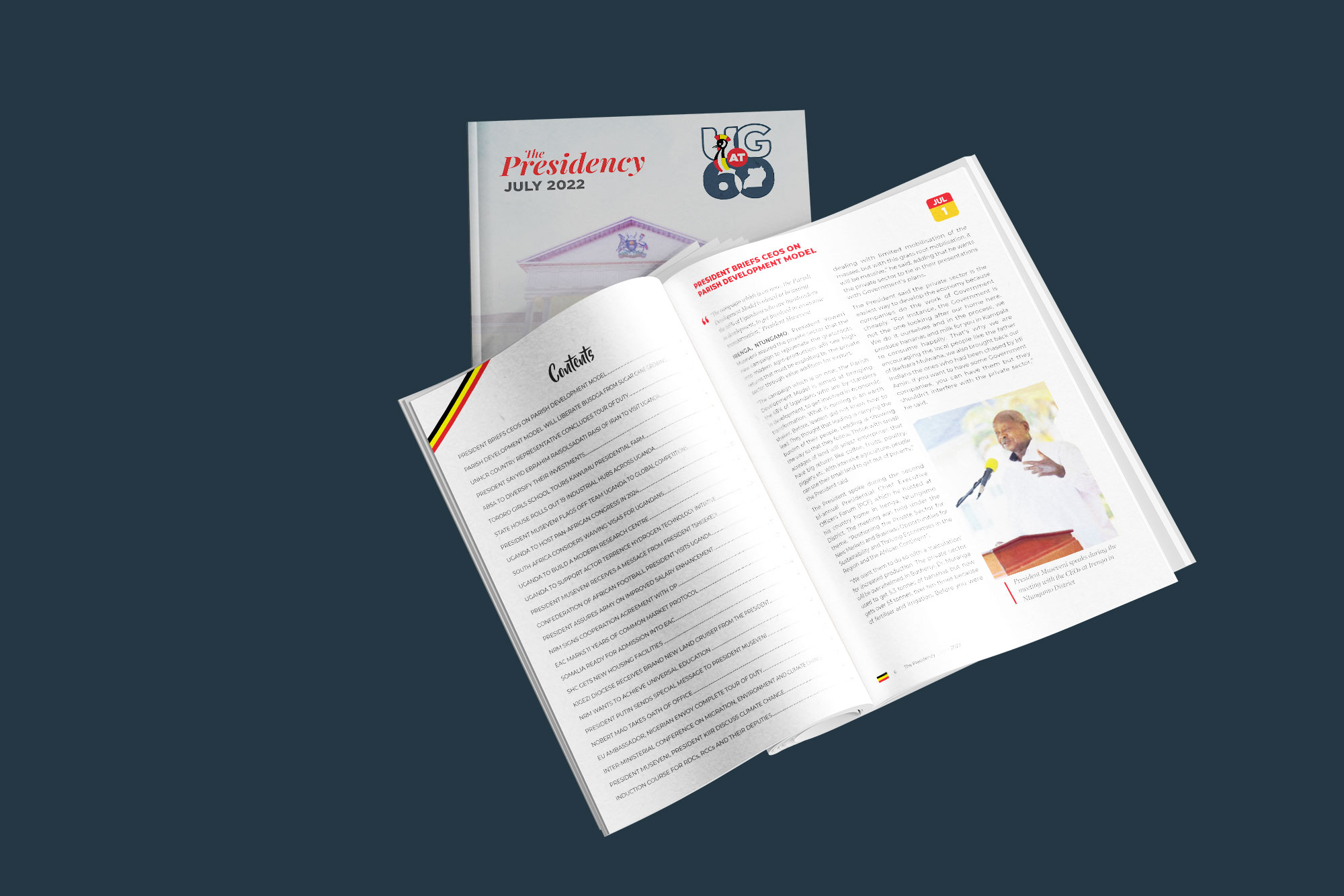 Dear Reader,
This is to present to you the July edition of our monthly e-magazine, The Presidency. The monthly e-publication highlights the major engagements of His Excellency the President and the entire Presidency for the month, and is one of our Open Government initiatives to bring Government closer to the citizens.
In this edition, we have annexed the Vice President's statement during the closing ceremony of one week induction course for the Resident District Commissioners, Resident City Commissioners and their Deputies, held at the National Leadership Institute, Kyankwanzi, between 25th and 31st July, 2022.
In July, His Excellency focused on popularisation of the Parish Development Model (PDM) which is the Government's flagship programme to push the remaining subsistence farmers into the money economy. The President briefed the Private CEOs Forum, NRM Central Executive Committee and addressed political rallies in Soroti, about the PDM. The President also made changes in Government, attended the East African Community Heads of State Summit in Arusha, Tanzania, and hosted the Minister for Foreign Affairs of the Russian Federation, the highest ranking Russian Government official to visit Uganda.
Lastly, we encourage the citizens to give us their feedback and suggestions about the e-magazine and our other services through our platforms; email: citizen@gcic.go.ug, Whatsapp: 0414670288 or through our social media handles; GCICUganda. We also encourage the citizens who have benefited from the different interventions, programmes and projects commissioned by the President to send us their experiences in form of articles. We shall publish them. I now have the pleasure to present to you the thirteenth edition of The Presidency.
Marcella Karekye
Special Presidential Assistant in-Charge of Communication & Director, Government Citizen Interaction Centre