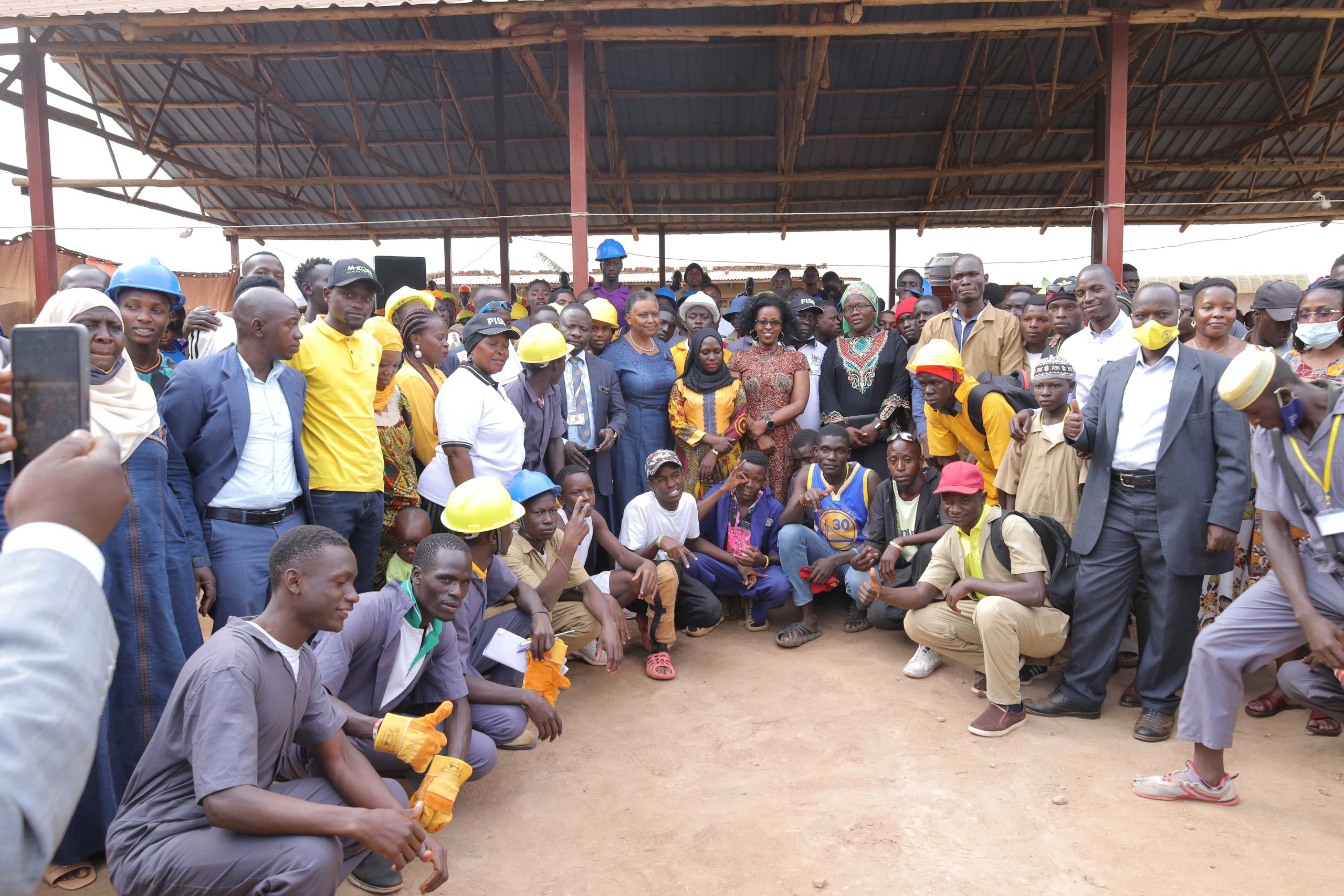 The President consistently reveals in his speeches, or anywhere he has a platform, that his wealth creation gospel started long before he held any office. He just knew that it was important for a society to push the poverty circle as far from them as possible.  He also knew and still knows that this can only be done when there is some form income generation or revenue stream at individual or household level. 
As President of the Republic of Uganda, he has added effort, through his office, to the ongoing national efforts of stimulating production, employment, household incomes and socio-economic transformation among Ugandans. This is done through a number of Presidential Initiatives discussed below:
Skilling the Youth
The Presidential Initiative for Skilling the Girl/Boy(PISGB) Child Project under State House was started in 2017. Initially, the initiative targeted only Girls but later in 2019, it expanded to incorporate boys. The trainees are skilled in carpentry, shoemaking, weaving, embroidery, plumbing, construction, knitting, electronics, electric installations, bakery and confectionery, hair dressing and make-up, motor mechanics and metal fabrication/welding. The project targets the vulnerable youth in the 05 Divisions of Kampala and executed through 09 Skilling centres in Kampala District.
The 09 (Nine) skilling centres are:
Wandegeya Market
Mulago Community Hall (Formerly Katanga)
Mutundwe-All Saints Church of Uganda
Nakulabye – Our Lady of Fatima Catholic Church
Luzira at Luzira Prisons
Subway-Crested Towers round about
Wabigalo– Wabigalo Parish Community Hall
Kigoowa-Ntinda, Butikirwa Parish Catholic Church –
Kikoni- Makerere Community Hall
Since FY 2017/18, over 34,860 students in various skills have enrolled. Currently, there are 6,110 trainees undergoing training.
Apart from providing an opportunity for acquiring skills, the skilling initiative in Kampala also provides job opportunities.
The initiative employs 181 permanent staff and 144 (former students) staff on temporary basis.
This initiative has further provided direct employment to the women groups that serve food to the students. Contracts have also been issued to the local suppliers to supply both consumables and non-consumable items. This has transformed the livelihoods of those in the neighbourhoods of these centres and beyond.
For one to be admitted at these centres, one would have responded to a media advert and then registered with the LC 1 chairperson. The LC 1 chairperson's final list Is then used for admission which happens twice a year.
Industrial Hubs
H.E the President, through State House resources established industrial hubs throughout the country in the 19 zones. This Presidential intervention is geared towards boosting production at the zonal level, imparting skills, creation of jobs and hence generation of income among the youth and women to lessen the unemployment and poverty problem in the Country. Interested participants are skilled regardless of level of education, gender and political affiliation.
The establishment of these is premised on covering 4 major areas:
Value addition: This targets agricultural and non-agricultural products that are ordinarily traded in their raw form and therefore fetching little revenue. Its objective is to add value to the best agricultural crop grown per region. For example: maize silos for hubs in maize growing regions like Masindi, Cocoa factory in Ntoroko, Fruit juice processing in Soroti hub etc.
The Skilling programme: This targets the large youthful labour force that lacks the sufficient skills for employment. The youth are trained hair dressing, shoemaking, tailoring, embroidery, knitting, weaving, baking and confectionery, construction, carpentry, welding, electronics, electrical installation, motor mechanics and plumbing depending on expressed interest. Its main objective is to equip the youth with hands on skills in the different trades that will help them become self-employed there by increasing their personal and household income while also reducing on the levels of unemployment among the youth.
The common-user facilities at each of the hubs target the youth that lack access to modern machinery and capital for investment. They come to the hubs with their raw materials, use the machinery at the hub to transform the raw material to a finished product that they can take to the market and sell. This ensures low costs of doing business at least at the start. 
The four-acre model targets farmers who are interested in agricultural farming in a commercially viable manner on their small pieces of land. Its objective is to train farmers about modern farming methods on small pieces of land to increase their agricultural productivity and household income. This also complements the Parish Development Model.
The Hubs are located in the following zones: Mengo, Greater Masaka, Mubende, Busoga, Bukedi, Bugisu, Sebei, Teso, Karamoja, Lango, Acholi, Madi, West Nile, Bunyoro, Ankole, Kigezi, Tooro, Kasese and Bundibugyo-Ntoroko.
12 of 19 industrial hubs in Mubende, Kyenjojo, Mbarara, Mbale, Kween, Napak, Kayunga, Masindi, Gulu, Zombo, Kasese and Lira were commissioned initially and 2,534 learners from these 12 graduated in January 2023. The other 7 were operationalised in March 2023.
The establishment of these hubs has provided both direct and indirect employment, each of the hubs has approximately 35 staff who are directly employed and 6 casual employees. In addition, State House has contracted various suppliers who supply the necessary logistics used at the Hubs (consumables and non-consumables). The lives of many more people have been impacted creating far-reaching prosperity.
Enrollment for these hubs happens twice a year. A district select committee that comprises the RDC, LC5 LC3 DISO, the District Youth, Women and PWDs chairpersons, Agricultural Officers will compile lists that will have come out of submissions following adverts in the media. At least two-thirds of the committee must sign off/endorse the list. The Youth chairperson must be present for a committee to be valid as this is a youth-based programme.
Presidential Initiative on Industrialisation and youth employment
The State House established the Tannery Factory in Kawumu as an initiative for industrialisation and youth employment. This Presidential initiative aims at promoting import substitution and export promotion of leather and leather products.
It also aims at industrialising the livestock sector and increasing the household incomes of the farmers in this sector. Production commenced by October 2022.
The tannery has an estimated daily capacity of 10 tonnes (approximately 500 hides) and is able to tan leather from cow hides, sheep and goat skin. It provides a number of direct and indirect employment opportunities for Ugandans, as well as supplying leather to the various industrial zones for making leather products.
It presently employs 64 permanent staff, 32 casual staff, 18 support staff (cleaners, cooks) and about 100 indirect staff. This number is expected to increase once the factory starts to operate at full capacity. It also supports local hide suppliers and local contractors who supply various factory consumables and non-consumables. The leather from the tannery can be used to make shoes, belts, carpets, wallets, bags and all other leather products.
Poverty Alleviation Initiative (Model Villages)
The Poverty Alleviation Initiative started in 2003 with the aim of increasing household incomes and productivity at Parish level.
Presently, there are 32 (Kawumu, Adjumani, Kataka, Amuria, Baralege, Kotido, Madi-Okollo and Mucuuni, Lwabenge, Kyanamukaaka, Mwanyanjiri, Nakyesanja, Kirasi, Naluvule, Kiyuusa, Buwemba, Kisimba, Ruharo, Bwera, Kikoni, Rwentondo, Karera, Rwamujoojo, Rwengaju, Sanyonja, Mbulamuti, Kasokwe, Peta, Busiita, Mangho, Bulambuli and Bugweri). The beneficiaries of this initiative are supported with agricultural inputs and trained to produce in commercially viable manner.
All these programmes are carried out  in conjunction and close cooperation with other government entities and local leaders. This is to ensure that there is uniformity in government initiatives and also equitable benefits for all.
No one should be left behind.