The College of Veterinary Medicine, Animal Resources and Bio Security (CoVAB) focuses mainly on training, research and outreach services. It is currently repositioning itself in line with both the Makerere University Strategy to meet emerging development challenges, and the Vision 2040 to transform Uganda from a peasant to a modern and prosperous society.
CoVAB was established in 1922 as a technical certificate training unit of Makerere College that was later upgraded to a veterinary diploma training department in 1949 under British colonial rule. From 1953, the department offered a Veterinary degree of the University of London until 1963 when it reverted to the University of East Africa. The Makerere University Act of 1970 established it as a legal entity that became the Makerere University Faculty of Veterinary Medicine in 1971.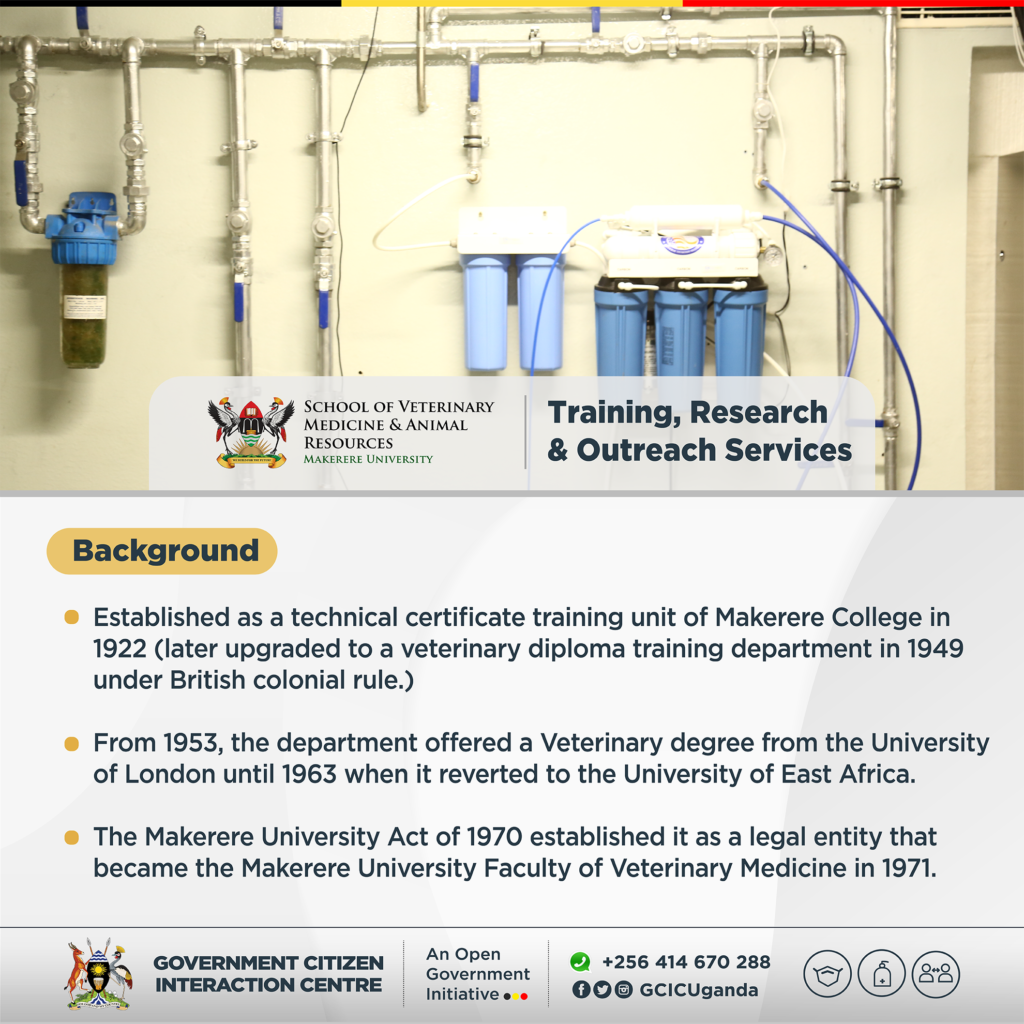 CoVAB's Global Development Mandates include:
Veterinary services-securing the wellbeing of animals.
Animal resources development-securing economic opportunities from the animal world (wealth, livelihood, production, employment).
Sustainable bio security-securing the freedom, integrity and sustainability of humanity, economic and security systems from the dangers posed by life threatening biological agents at national, regional and global level.
The college is elevating the function of bio-security in Makerere University and the region. The justification for COVAB's undertaking of bio-security as a front-runner lies in the world of animal resources in the natural hideout for most of dangerous germs co-existing with humans and threatening global economies, health, security and livelihood systems.
The college was approved to run laboratory centers and currently a level 3 bio-security laboratory is under construction; after equipping and certification, the laboratory will help the nation and the region to asses and diagnose agro-chemical inputs and exports for quality purposes.
The already functioning level 1 laboratory (Bio-technology and Microbiology) is a center for handling zoonotics and bio-threats, biotechnology and biosynthesis.
Through PRESIDE, Government has secured a budget to equip the laboratories and so far a fund of over $1million has been availed to equip the laboratories in the second phase.
Government has issued a license to the College to procure 20 humanised mice to be used in the studies to test the efficacy of the vaccines developed for human. Each mouse costs 10,000 dollars in China.